Number 8 on best male list Berntiers E-Type (E-Type is a young boy he have only start in junior class this year).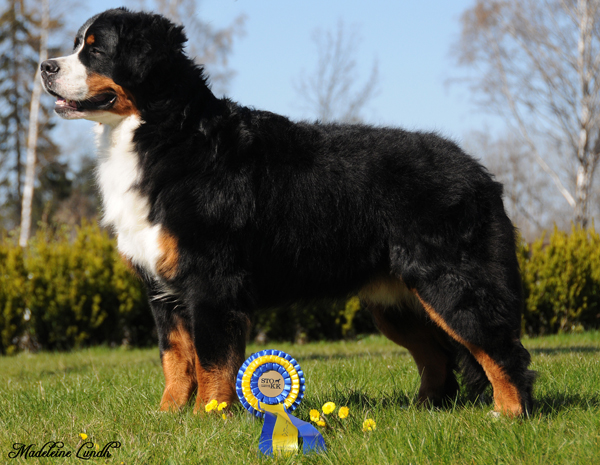 Vi har i år startat med 20 uppfödaregrupper, vi har blivit bästa grupp 16 gånger, två gånger har vi blivit BIS 1, och två gånger BIS 4, den största vinsten är nog att vi vann bästa grupp på WDS i Helsingfors där det startade minst nio grupper från olika länder. I våra grupper i år har vi haft med 8 hundar från 7 olika kombinationer. Tack till alla som har varit med och bidragit till vårt super resultat/This year we started with 20 breeder groups, we have become the best group 16 times, twice we have been BIS 1, and twice BIS 4, the biggest win is probably the BIR / BOB breed group WDS in Helsinki. In our groups we have had 8 dogs from 7 different combinations. Thanks to everyone who has participated and contributed to our super results.
2:a Mest vinnande uppfödare/# 2 BMD breeder in Sweden 2014
(with same point us number one)
Vi är den mest vinnande Berner uppfödaren på Svenska kennel klubbens ranking lista!/ We are the most winning Bernese breeder at the Swedish Kennel Club ranking list!
Bild på vår vinnande grupp/picture on our winner group from World Dog Show in Helsinki (1/9)
from left: NORDUCH NO V-13 Berntiers Baby Doll, RU&RKF&Bulgaria&Romania CH Grand CH Bulgaria RU&CZ JCH Balkan Winner 2014 Berntiers Avatar, SEUCH SE V-11 Berntiers Quest For Gold, Berntiers E-Type